Kali NetHunter 1.2 Released!
Kali NetHunter 1.2 is fresh out, with a whole bunch of improvements, bug fixes….and yes, Android Lollipop support. This means that NetHunter now supports the Nexus6 and Nexus 9 devices too! This is awesome news to all those who have bought these new Nexus devices and have yearned to install the Kali NetHunter on them. What else is new with NetHunter? We're excited to tell you all about it:
Lollipop Support for Nexus 5/6/7/9/10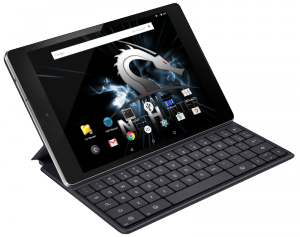 We've added Lollipop support for almost all devices we support, except for the OnePlus phone and the Nexus 7 2012 tablet. The OnePlus uses a Cyanogen 11 image, while the Nexus 7 2012 just isn't powerful enough to run Lollipop, providing a horrible user experience. We've tested our Lollipop releases well, and so far, haven't found a good enough reason to move to Android 5.0 on our own production devices. Don't get us wrong, Android 5.0 is nice and shiny…but not mature enough yet for our purposes. The good news – Nexus 6 and Nexus 9 devices are finally supported and can run the Kali Linux NetHunter reliably. All in all, we're excited about the new Nexus 6 and Nexus 9 images as they usher in an era of updated hardware to our Mobile Attack Platform. One caveat worth mentioning – the Nexus9 devices don't play well with Atheros USB chipsets yet.
Say Hello to My Little Friend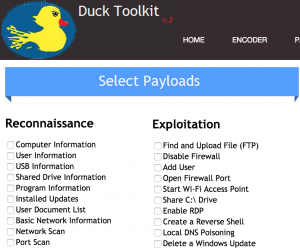 A recurring request in our NetHunter email inbox was to integrate Ducky Toolkit HID attack syntax into NetHunter and support "Ducky Script". This allows for easy and rapid development of a variety of HID payloads for various occasions – from reconnaissance to exploitation. You can check the Ducky Script Syntax guide for more information about this. If you're not familiar with the Hak5 USB Rubber Ducky and are interested in HID attacks, you should definitely check it out. What's more, you can generate complex payloads from the Ducky Toolkit Website and generate more complex payloads automatically, which given a bit of fine tuning, can be extremely time saving.
---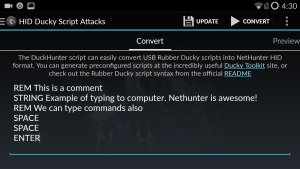 Updated Windows NetHunter Installer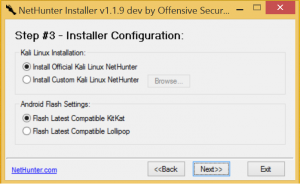 Getting NetHunter installed can often be confusing to newcomers. To help overcome this, we've built a convenient installer that we've been updating with every NetHunter release. This 1.2 release is no exception so if you're looking for the most painless way of getting NetHunter on your Nexus or OnePlus devices, download our NetHunter Installer. For devices that support it, you'll have the option of choosing between installing a KitKat or Lollipop image. We've also added the option to add custom NetHunter images through the installer, for those who cook their own. Otherwise, you can head on down to the NetHunter Download Page if you wan to download and install an image manually.
Download NetHunter Windows Installer 1.2.5
sha1sum: 5aa614f99b6180292b523ff934dc79dd7275e6f8
Notice Anything Different?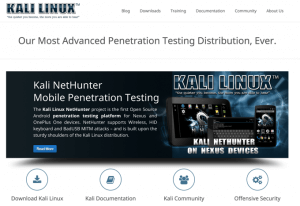 We've given our main Kali site and the Kali documentation site a complete overhaul to have a much cleaner and easier to read format. As an added bonus, the Kali Documentation site update brought with it the first trickle of the Kali Linux Dojo Articles and Videos – check them out in the new Kali Linux Dojo section.
We're continuously working to expand and improve our Kali documentation and keep things fresh and up to date. We hope you like the new look as much as we do!
Note: This post references an outdated process and files, and is for historical purposes only. Please visit the NetHunter Downloads page for the latest info.