Latest News
We are halfway through the year with many updates to share, including new features and exciting course changes, introducing a unique solution for workforce development, and our Capture the Flag events. Keep informed on how OffSec advances individuals and organizations within the infosec community in this quarterly updates blog.
Cybersecurity Workforce Development
OffSec introduced Learn Enterprise to help organizations elevate their security workforce and fill the talent gap with an unparalleled learning experience with unlimited access to the OffSec Learning Library (OLL). 
In addition, Learn Enterprise customers have exclusive access to OffSec Cyber Range (OCR) which provides hands-on training and in-depth labs in the most realistic simulated enterprise environment to prepare staff for real-life cyber attacks. 
Click here to learn more about the Learn Enterprise and OffSec Cyber Range.
Enhanced Partner Program 
OffSec has recently enhanced the Global Partner program equipping learners with the indispensable knowledge and mindset essential for excelling in cybersecurity. If you are interested to learn how we help partners cultivate a highly qualified workforce or to apply to be a partner, visit our partner page. 
Hack-a-Thon Blast Off!
OffSec hosted some Hack-a-Thon CTF events for our PG Practice Subscribers to challenge their critical thinking and creative skills with fantastic prizes. Players learned how to exploit vulnerabilities, analyze code, and decrypt messages to obtain flags. These inspiring events provided a unique opportunity for participants to learn, network with other professionals, and gain exposure to the cybersecurity field. Keep an eye out for more Hack-a-Thon events this year!
Kali Linux
Kali Linux 2023.2 has been released, and this time it brings the new Hyper-V of pre-built VM images, PipeWire for Xfce, and an overhaul to i3. 
The Kali team added thirteen tools to the network repositories to help users find vulnerabilities, troubleshoot Kubernetes clusters, and safely improve their infrastructure. 
Read the full 2023.2 release blog post for more information.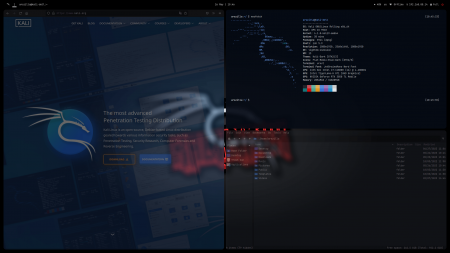 Content Release Update
This quarter, OffSec released the most extensive content and learning assets in the Learning Library to ensure learners receive the best investment for their future careers.
We've introduced 17+ new modules and over 42 restructured modules to the following courses: WEB-100, 200, and 300, MAL-200, SSD-100 and 200, EXP-100, EXP-312, PEN-100, PEN-200 2023, LIB-100, SOC 100 and 200, and CLD-100 along with new assets:
OffSec Cyber Range which includes 42 new enterprise-level attack chains/machines

PEN-200 has six new video modules

WEB-200 has a new Challenge Lab environment
 We've organized Learning Modules into the Build, Attack, and Defend categories. New releases include: 
Attack Modules

Build Modules

Defend Modules

Credential Attacks 

File Upload Attacks 

SQL Injection for Developers 

Template Injection for Developers 

Hands-on XSS with Java 

Cross-site Scripting for Developers

Cross-Origin Attacks for Developers

Working with Packed Malware
Our learners can narrow down their search for Learning Modules with the new category and MITREfilter feature. Learners can use the category filter to select modules in the "Attack", "Build", or "Defend" categories and the MITRE Tactics filter to find machines and modules based on the tactic. Thanks to our IT team, learners can spend less time locating relevant Learning Modules and more time learning. For more information on the filters and capabilities, read this help center article. 
Connect With Us
Watch this space every quarter to stay informed of emerging developments at OffSec. Also, join our community on Discord, connect with other cybersecurity professionals, and ask our staff members questions about our courses, challenge labs, and career advice during our weekly Office Hour every Friday at 1 p.m. EDT.