It has been two years since the first worldwide lockdown from the COVID pandemic. We all have adapted, living and working a lifestyle that was unthinkable before the pandemic. We all have gone through a lot of pain, some suffering the loss of loved ones, all not able to be with our friends and family physically as much as we want. At the same time, like everything in life, the pandemic has taught us some valuable lessons. Here are the five lessons the pandemic has taught me:
People are more clear about the important things in life
Humans need social interactions
Work from home is going mainstream
Company culture is more important than ever
The playing field for talent is much more leveled across the globe
People are more clear about the important things in life
Before the pandemic, our busy days were packed with activities from work and personal life. We went about our daily routines without questioning them. The thought of cutting back or cutting out most of those activities was unthinkable. When the lockdown happened, we had to adapt overnight. We had to re-examine the essential things needed for us to survive, thrive, and be happy.
With all the time in physical isolation, with free time to read, think and reflect, we became much more clear about what was essential for our survival and happiness, such as:
We don't need nearly as many material things to be happy
Work must be a lot more than just a paycheck for people to get out of bed and look forward to
Our family and friends are the real precious things in life
Mental health is really important, and we need a minimum amount of sleep and physical activities to gain and maintain our mental fitness
We have to be intentional and prioritize the important things in our lives, not assuming there is always a tomorrow
Nature can bring a lot of joy
These profound realizations put life in perspective in a very personal, tangible way for many people. I believe this is a big contributor to the "Great Resignation" we are currently seeing in the workplace. People who were formerly mildly content with a job, a company whose culture was not a good fit, or a manager who was not so great, decided it is not worth the compromise anymore. They started to seek a more meaningful life; for some, it included changing or quitting jobs to pursue more fulfillment in their lives.
Personally, I discovered my love for nature and hiking in the White Mountains during the pandemic. I fell in love with the goal of hiking the New Hampshire 48 4000-Footers. I still have 15 more summits to climb!
With people looking for a meaningful job beyond a paycheck, it is important that business leaders communicate clearly the company mission and vision, why you do what you do, how it helps people, benefits the community, and how every role in the company contributes to the company goals and vision.
Humans need social interactions
No time made us realize more than the pandemic lockdowns that we are a social species. For our survival and happiness, we need human interactions. We realized so viscerally how much we need human-to-human talking, seeing, touching, and belonging. We realized how much those mini spontaneous interactions, such as laughing over a silly joke, or a quick hug when passing by a friend, impacted our moods positively.
For companies that never had a work-from-home history, this transition was very hard. This is because in order to make WFH work, you cannot just focus on the work tasks. You have to think about your employees as people FIRST, think about the holistic human needs far beyond the work tasks and statuses.
OffSec has been work from home (WFH) from the very start. We largely kept this as we scaled with a couple of small offices in some locations. Family is our biggest company value. We embrace holistic life when we work from home. This means we expect that our people will take breaks during the middle of the day to pick up their kids, walk their dogs, do yoga, have snacks with the family, occasionally need to bring their kids to meetings, or join a company call while walking their dogs. We organize social activities such as movie nights, game days, and workouts. We start our company calls with a few minutes of meditation, and pay for the Headspace meditation app for all employees. Being intentional about mixing life and work for our employees made it easier for us. We continue to experiment and push the boundaries.
Work from home is going mainstream
With the deep reflection of what is truly important in our lives and for our happiness, more and more people realize that they want to find a meaningful job that allows them to live near families, in affordable areas, without the daily long commute. By saving time from sitting in traffic during the daily commute, people can spend that time sleeping, exercising, spending time with loved ones, and thus having less stress in life.
We see that more and more WFH positions are being offered by many employers. We see that even during a brief time when it was okay to return to the office, many employees asked for options to continue to work from home. We also started to see that many employees changed jobs solely because they wanted a permanent WFH arrangement.
With the "Great Resignation", hiring has been very challenging in most parts of the globe. If you want to hire good people, you must consider at least a hybrid option where an employee can work from home for a few days a week. For the hard-to-fill roles, you may need to consider the option of full WFH arrangements. While WFH started out of necessity during the pandemic, it is here to stay into the future, which has profound implications for how to hire, develop and retain talent. Companies that get this right will have a significant advantage in hiring talent.
Company culture is more important than ever
When you cannot offer those nice office perks, such as free meals, snacks, fancy bean bags, and game sets, how do you differentiate your company from the rest? Company culture has always been important. But in the new age when WFH becomes more a norm, company culture becomes critical to a company's success.
But what exactly is company culture? To me, company culture is the set of values we live by through a set of promoted fundamental behaviors. These fundamental behaviors are how we LIVE our values and culture. It is about our attitude towards life and work and how we treat each other when we work with colleagues, serve our customers, and when we work on our own.
Some companies have a good culture accidentally. But great companies have a great culture by design with mindful intentions.
As OffSec CEO, I spend a lot of time on our company culture, encouraging every team member to live our culture. One of the most important things for me is to always know the company vibe. How do you know the company vibe when it is 100% WFH across many countries and time zones? I have many check-in calls with our employees of all functions at all levels. Talking to our people via video calls, hearing firsthand of their questions, suggestions, feedback and concerns allow me to get a good idea of the company vibe. In addition, our people operations team (HR) constantly conducts check-in calls with our people. It is incredibly rewarding when candidates tell us that the first reason they decided to apply for our job is because of our culture.
I highly recommend CEOs and company leaders invest time in developing, communicating, and living your company culture. Do it genuinely, wholeheartedly, with authenticity and humanness.
The playing field for talent is much more leveled across the globe
With the increasing adoption of WFH, companies are looking for talent not just locally in their home country, but globally where talent can be found. This has significant implications for employers and job candidates.
As an employer, it can make talent acquisition easier once you open up your search globally. There are many roles (e.g., web developers, IT engineers, project managers) that can be served by anyone in any location provided that the person has good communication skills, the skills needed for the job, and is a good culture fit. At OffSec, we search and fill most of our roles globally. We live, embrace, and respect diversity of tradition, habits, religion, language, timezone, gender, race, work style, etc.
For job candidates everywhere in the world, the opportunity to get a rewarding role in a company is better than any time in the past. You don't have to physically live in a particular country. Your resume does not have to include particular schools. It is much more important that you can demonstrate what you have done, what you are capable of achieving, your drive, your ability to grow and meet goals no matter what. Your aptitude combined with your experience and skills will get you very far.
OffSec provides hands-on cybersecurity training and certifications. We have hired many of our students outside of the US soon after they earned our OSCP certifications. We hire them for their growth and Try Harder mindset, their desire to learn, and their cultural fit. We trained and developed people that didn't meet all of the job criteria but otherwise demonstrated the aptitude to learn, grow, and the drive to succeed.
With the leveling of the global job market, it will be crucial for both those that are employed and those seeking jobs to realize the importance of constant learning and upskilling no matter what role they hold because success belongs to those who are constantly reinventing themselves.
In summary, the pandemic taught us some good lessons about life and work. If we take these lessons and apply them to how we live and how we work, we can have a better life – personal and work – in years to come.
---
About the Author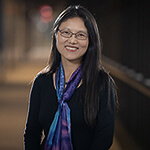 As CEO of OffSec, Ning Wang is responsible for the company culture, vision, strategy, and execution. She is passionate about narrowing the skills gap and supporting women in tech and cybersecurity. Ning has a Ph.D. in physics from UC Berkeley and has worked at McKinsey & Co.