Experience the Refreshed OffSec
Embarking on a New Path
We're leading the way in empowering the world to fight cyber threats with indispensable cybersecurity skills and resources. Join us on the path to a secure future.

Onward.
OffSec.
Modernizing Our Name
You may have seen us use "OffSec", the shortened version of "Offensive Security", for quite some time. It is a natural progression to officially embrace the name we're most commonly known by!
Most importantly, "OffSec" speaks to our present and future expansion.
Beyond training.
Beyond certification.
Beyond expectation.
The Path to a Secure Future
We're been at the forefront of cybersecurity education, training the best practitioners. OffSec defined the industry with its intensive, practical approach. Our methodology, content, and learning paths prepare organizations and learners for whatever lies ahead on their journey – whether it's the next step in their career path or team development for the enterprise customer.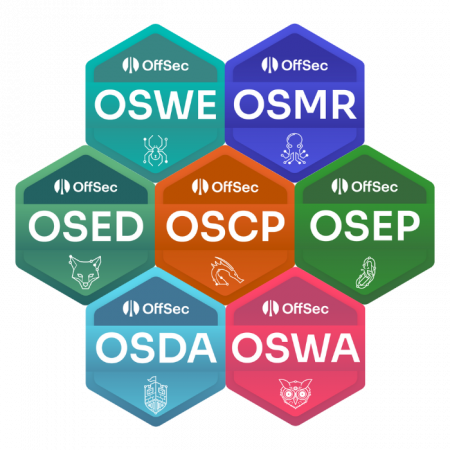 OffSec is ever-evolving and growing to meet our learner and customer needs while embracing our legacy and community. We help companies develop skilled infosec team members by instilling the mindset of always moving onward and persevering in the face of challenges.
But the threat landscape is vast. We were determined to teach beyond penetration testing to meet our learner and customer needs, with deference to the legacy that the infosec community has built around Kali Linux.
Our ever-growing learning library helps learners build indispensable skills by offering a comprehensive variety of role-specific content.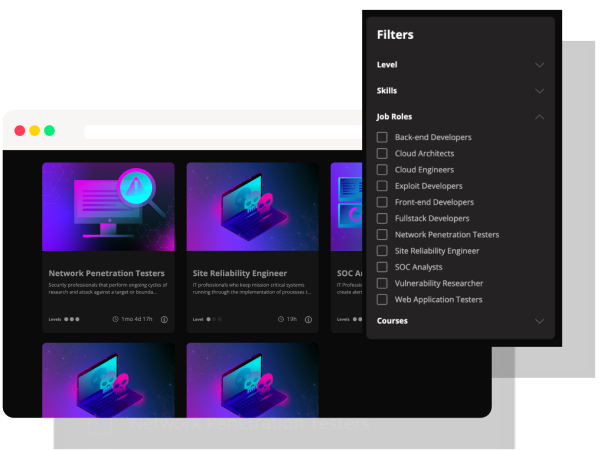 Learners have access to content for entry-level to advanced cybersecurity positions. We have widened the breadth of our teachings in the following domains: 
Our Learning Approach
Developing a security mindset involves a cycle of trial, failure, adaptation, growth, and triumph. Encouraging the development of this mentality in our students distinguishes our approach and courses from the rest.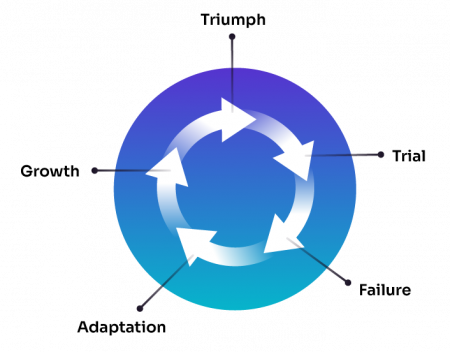 Trial
Sometimes students will succeed on a particular trial. Most times they will struggle.
When a student is unable to solve the problem, they encounter failure.
Failure
Failure provides growth and learning opportunities. Learning to handle the mental and emotional reactions to failure is critical to adaptation.
Adaptation
When students are able to move past the experience of failure they will begin to adapt. This means they will start trying different approaches to solving the trial
Growth
Growth occurs when the student has internalized not only the knowledge, but also the skills, processes, and attitudes they have developed so far in the cycle. Growth happens due to the continued attempt at trying to solve the trial.
Triumph
In the process, they have made incremental progress emotionally, mentally, and technically.
Triumph opens the door to the synthesis of knowledge and the ability to tackle more challenging trials.
Showcasing Endless
Opportunities with Design
OffSec's new logo and typography are a tribute to where we've come from and the trails that have yet to be blazed. Our logo incorporates the shape of a path to develop the visual symbolization of the onward voyage – an infinite space where opportunities are endless and transformation begins.

The teal (Skyfoam) to purple gradation reflects the transformative process one experiences when engaging with our content – trial, failure, adaptation, growth, and triumph. This learning philosophy serves as a reminder that we are dedicated to turning learners into industry leaders. 
Additionally, this logomark showcases why companies partner with OffSec to attract, screen, and retain top talent while improving their cybersecurity posture.
Experience the Refreshed
OffSec for Yourself
Build the path to a secure future with OffSec. Explore the possibilities:

Tags: Updates