OffSec Booth
For those planning on attending Black Hat in Las Vegas on August 3-8, come stop by our booth (#2604) in the Business Hall — which will be available August 7-8. Members from many different teams of OffSec will be there and would love to meet you! Rumors are swirling that we'll also be handing out special Challenge Coins to visitors that Try Harder… so make sure to stop by.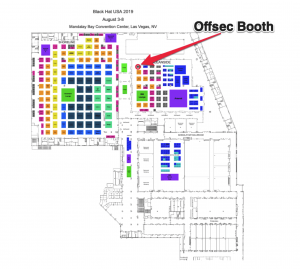 Trainings & Workshops
We'll also be conducting several different trainings from August 3-6, and we hope to see you at those as well. Unfortunately these have already sold out, but you can find the attached workshops below.  If you're unable to attend a training — we'll miss you! — you can always sign up for an Offensive Security course here.
Black Hat Workshops:
If you haven't purchased tickets yet for Black Hat…don't worry, you can still purchase them here.