The Offensive Security team is excited to announce the release date of v3.0 of the Pentesting With BackTrack Course.  On March 21, 2010 the course will be made live. The team has worked overtime to ensure the videos and labs are better than ever.
With new modules, more in depth explanations and a new rich lab environment, this will prove to be a very exciting release. We are opening up early registration for those interested in signing up now.  For those who have purchased the older version of the PWB Class, you can upgrade for the difference in the two course prices. These changes have also been ported to our live training events.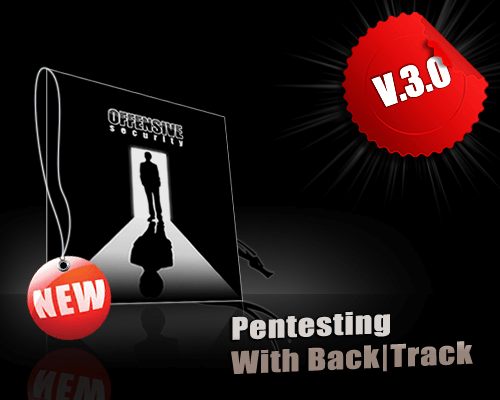 Whats new in PWB v.3.0 ?
Aligned with BackTrack 4
New Video recordings, updated courseware
New Lab environment, doubled in size, modern OS's added
Added storylines to the lab, simulating a realistic corporate environment
In depth Buffer Overflow module, including Linux Buffer Overflows
New Web Application Attack modules
The updated syllabus will be made available online on the 21st of march.
Course Pricing
As usual, Offsec Alumni will be able to upgrade their v2.0 course materials for 200$ not including Lab Time. We do have a package deal for both the upgrade and Lab time in our new environment. For more information about new course pricing, check the PWB course page.
How to Upgrade your Courseware
The fastest route to upgrade your course materials would be to send an email to our orders department with your full name and OSID.