It's been a week since our release of the Kali Linux NetHunter, and the feedback has been amazing. A NetHunter community has sprung up from nowhere and the forums and GitHub pages are really active. We're every excited about this community response and are eager to see it grow. After an intense week of community testing and a slew of bugfixes (including shellshock), we thought it would be a good opportunity to release a NetHunter update. Please welcome NetHunter 1.0.2.
Windows NetHunter Installer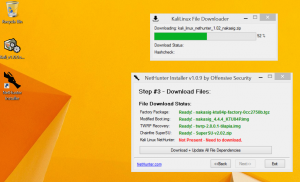 We have released a NetHunter Windows installer to make the process of installing and flashing your device easier. We've tested it thoroughly with all devices at hand and would be happy to get community feedback. It has several snazzy features such as automatic version updates, so that you will always be alerted if more recent versions of NetHunter have been released. If you want to keep up with the latest and greatest that NetHunter has to offer, you should definitely check the installer out!
DriveDroid Support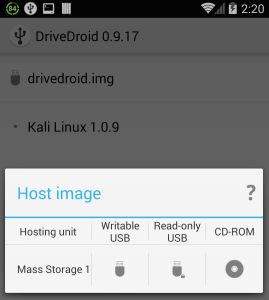 We received several suggestions from the community about additional features they would like to see implemented. One of them was the ability to have the Nexus devices emulate CD or USB devices, allowing us to boot from them too. That's right, you can now store a variety of ISOs on your phone and then serve them to a computer via a USB port, acting as a CDROM or USB device. Boot up a PC from your phone! This option becomes even more interesting once you consider that you can generate self-installing Kali ISO files a-la Kali Linux ISO of Doom. We've played with this feature for awhile and it worked well for us, but additional input would be appreciated!
Experimental Nexus 4 Image
We heard the outcry from all the Nexus 4 owners and have released an experimental image for them to try (as we do not own a Nexus 4 device). Nexus 4 installations are supported through our Windows Installer, however images can be downloaded or built separately from the NetHunter Download page.
HID Keyboard Android Application
This revision of NetHunter comes with a fixed Windows 7 UAC bypass option in the HID keyboard attack area as well as a native HID Keyboard Android application. This is an extra cool feature as you can literally turn your Nexus device into a full-blown external keyboard, with mouse, scrolling and all!