Offensive Security's certificates and badges are evolving! Beginning April 5, 2022, we will modernize the look of our certifications, and how we issue our accreditations. Our new approach is more in line with some of the world's leading higher learning institutions such as Stanford, UC Berkeley, and MIT.
The Look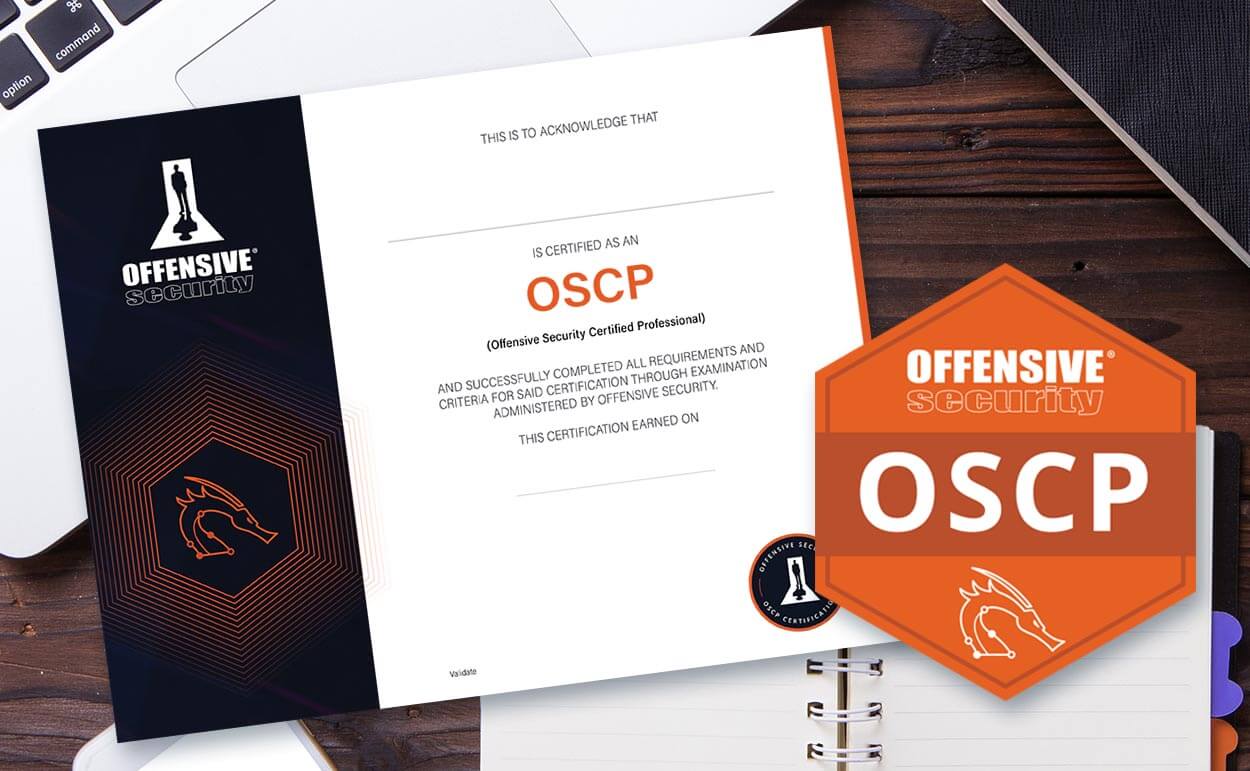 OSCP Certificate and Badge
The How
For all certifications except for OSCE3*, we will be evolving from paper certificates and physical wallet cards to a fully digital certificate and badge experience that is:
Easier to share
More secure
Immediately accessible (no more wait time)!
Environmentally friendly
The new digital experience will offer one-click sharing to social media and professional networking while instilling trust in our community via one-click verification. Compared to a physical certificate, Offensive Security's new digital certificate and badge will be a portable, secure and verifiable version of our student's accomplishment. We believe digital is a step-change improvement over our more traditional paper certificate as digital provides unlimited sharing with employers, potential employers, colleagues, friends, and social/professional media.
Digital will also protect the hard-won integrity of our achievers by offering bank-level encryption and blockchain logging, meaning it will be extremely difficult to fake Offensive Security certificates and badges. Immediately upon earning the Offensive Security certification or badge, digital will provide our students the ability to receive and then print on demand - from home or a local print shop - high-quality versions of the accomplishment without having to wait weeks (or even months) for the paper certificate to arrive. Finally, digital is also more environmentally friendly, estimating ~7X less of a carbon footprint than printing, packing, and globally shipping our traditional paper certificates.
Key Questions:
How do I know if I'm eligible to receive a physical paper certificate?
Final eligibility to receive a physical paper certificate, other than the OSCE3, requires starting an exam by April 4, 2022 (23:00 GMT).**
All exams started by that date and that subsequently have all documentation submitted and accepted will then be graded, and if passed, the student will be notified and may elect to receive a physical paper certificate and wallet card.
It is important to note that our grading process may take up to 10 days to complete and the physical paper certificate will be in the current format. Once we launch on April 5, 2022, those passing the certification exam will be able to download and print the new certificate and/or badge, and fully experience our digital features and functionality.
Will there be more exam rooms available if I'd like to schedule my exam prior to April 5, 2022?
We've opened additional exam rooms to accommodate those who may wish to start their exam by April 4, 2022 (23:00 GMT). Do note we may be unable to accommodate all potential exam registrations during this time. We apologize for any inconvenience this may cause.
What if I earned my certification and received my physical certificate before April 5, 2022 - how do I proceed?
If you've earned your certification prior to Tuesday, April 5, 2022, and/or have also accessed and downloaded the badge, Offensive Security will provide direction via email shortly after that date describing the steps required to access the new certification and badge.
What if I earn my certification on or after April 5, 2022 - how do I proceed?
If you earn your first certification on or after Tuesday, April 5, 2022, no action is required. Upon achievement, you will receive an email notification with directions and may immediately access and share the digital version of your accomplishment.
What if I want a paper copy of the new certificate?
You will be provided a high resolution file that can be used to print your certification at home, at a local printer of your choice, or by using an online printing service.
If you have further questions, please visit our FAQs:
https://help.offensive-security.com/hc/en-us/articles/4826237411732
* In addition to the digital certificate and badge, OSCE3 earners will continue to receive via traditional snail mail the Offensive Security printed paper certificate, wallet card, and OSCE3 challenge coin. We've chosen to continue physically printing and globally shipping the OSCE3 as it embodies the critical thinking, grit, and ambition needed to earn the OSEP, OSWE, and OSED.
** The OSMR certificate and badge will only be delivered in digital format. No paper certificates and physical wallet cards will be issued.