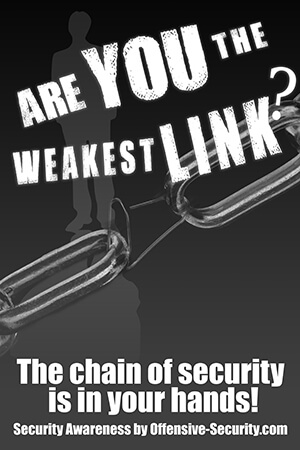 Each year companies lose millions in security breaches. High quality Information Security Awareness is probably one of the most important remedies for these attacks. For a long time we have held to the thought that the human element is the weakest link in the chain, and the Social Engineering Contest at Defcon 18 really drove the point through.
Offensive Security and Social-Engineer.Org have joined forces and prepared asecurity awareness training program that is different than everything on the market today. We are unleashing a one day, managerial security awareness training program, geared to expose the threats of modern day attackers.
This is not a standard "compliance" only course that will leave your employees wondering why they wasted a day.  Instead this course is  unique in the security field, being highly informative and entertaining, leaving attendees both engaged and committed to their personal and corporate security. Our goal is to change the way people think, making them own a personal security policy that carries over from their personal life to their professional life.  Join us as we launch the New Era of Security Awareness Training,
For more information about the course, as well as free Security Awareness posters, visit our new Information Security Awareness website.