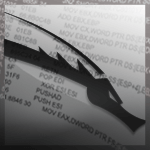 BackTrack 4 Downloads are still going strong with over 30,000 registered downloads up to now. We are currently working on updating our new course materials based on BackTrack 4. We expect the new version to be available soon.
As always, alumni students will be able to upgrade their version of PWB. The upgrade fee will (as usual) be the difference between the current price and new one. No, we don't have pricing information at this point! Hang in there and we will keep you posted.
For those you up to the challenge, we have our live training which is already based on the new BackTrack 4.  We have a few seats left for our Live Pentesting With Backtrack class in Columbia MD.